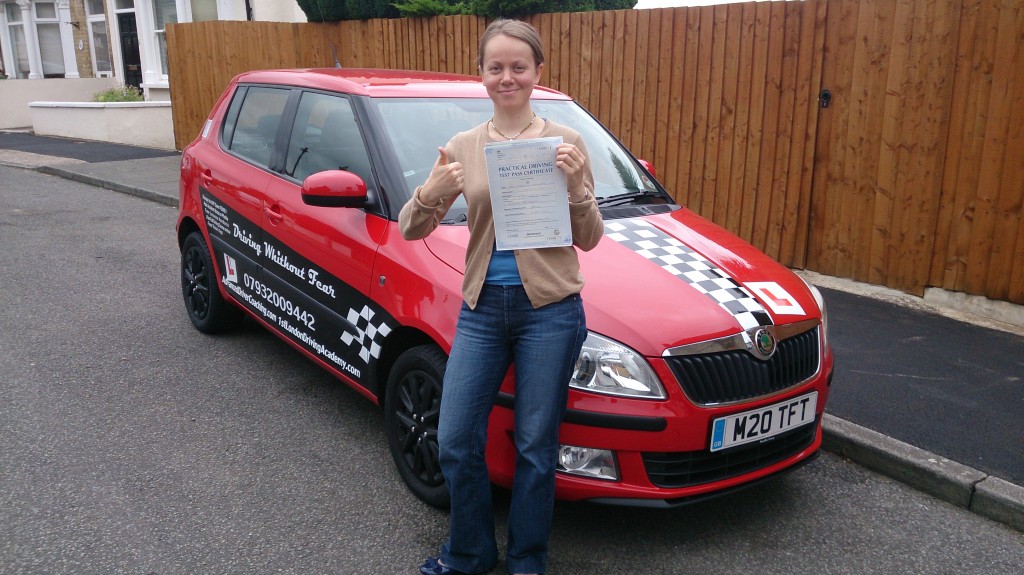 Advanced Driver Coaching
Average rating:
6 reviews
Jul 15, 2014
As I promised I would like to sing the praises to Monika's talents. Initially I decided that choice of instructor is more important rather than choice of school. And I must say it was right decision. It is said on the web-page that Monika is highly skilled coach and that's absolute true! I am very demanding person and I could appreciate her competence. She can deal with any kind of people and talk to them and teach them on their level of understanding. It might be housewife or engineer, beginner or experienced driver – Monika will find her way to "bring the truth" and share her skills and experience. What I liked best of all – it never was too easy or too stressful. She could sense when it is getting easier for you and she immediately goes to the next level. Believe me, not every person is so sensitive. First time in my life I was enjoying driving (I was driving a few years before with auto gear) – thank you Monika! That was amazing experience! And she is really-really nice person!!! Highly recommended!
Thank you Katya for your kind words.
Jun 22, 2014
When I was looking for a driving instructor a few years ago, I was originally going to go with Monika, but her prices were just a bit of out my budget, so I went with a cheaper instructor. This is a lesson I will definitely remember as this proved to me that you definitely get what you pay for! With Monika I received quality, patient and friendly tuition whereas the cheaper instructor was much less patient and the teaching style did not suit me. The other instructor tried to cover the more advanced aspects of driving (e.g. A roads) before I had even mastered the basics which just put me on edge and made me dislike driving. I ended up taking a year's break from driving lessons and at that point I decided I would try a different instructor which is when I contacted Monika. I learnt more from Monika in about 2 hours of lessons than I did after 20 hours with the other instructor! I'm sure I would have saved a lot of money if I had just gone with Monika in the first place!

Monika also taught me how to do TFT and it really helped me to combat initial nerves when driving. Originally I thought I had a fear of driving but Monika helped me realise it was more a lack of knowledge than anything else! I did have some nerves at the start of my lessons and TFT helped me overcome that. I also did TFT before my driving test which I took one day before my theory test expired (no pressure!) and passed 1st time with 3 minors, this was no doubt because of the quality tuition I received from Monika and endless hours of private practice! I felt so nervous before I went for my warm up session before the practical test but after doing TFT I was filled with positivity and couldn't believe how relaxed I was during my test!

I have also used TFT in others areas of life, once before a big presentation as I was nervous about speaking in front of a lot of people. It went so well that one of the directors of the company I was presenting to said it was one of the most effective presentations they have seen and that I looked very confident and relaxed. Again, after TFT my nerves just seemed to disappear. I would recommend TFT and Monika to anyone! Thank you for everything Monika, it's such a relief to have passed my test and I still imagine you clicking your fingers at the mirrors so I don't forget to check them! 🙂
Thank you Kelly, I am so glad TFT had helped you further, beyond your driving and the driving test. Shame more people are not using it. Best wishes for the future!
May 8, 2014
After all these years of giving up...
I started lessons with Monika in Spring 2013 aged 35 after being put off for 18 years following a horrible driving course at 17 with an instructor who made me like I was useless and would never be able to drive. After the first lesson with Monika I felt completely at ease and started to think that I may be able to learn to drive after all! Monika is the perfect driving instructor, calm and encouraging and obviously extremely skilled, she explains exactly why mistakes are happening and what is going on with the car at those times which means you understand what is going wrong to correct it. Having spent all those years believing I was incapable of learning to drive, after half a year learning with Monika I felt confident, relaxed and most importantly completely in control and safe when driving. I passed my test first time with only one minor fault and this is all thanks to Monika and her expert tuition. I bought a car a few weeks later and now driving is second nature to me, though I still hear Monika's voice in my head if I encounter a tricky situation, the good practice she teaches you really sticks! I would recommend Monika to anyone, not only is she the best instructor you can get she is an amazing person making the lessons so enjoyable. I actually miss my lessons with her!
Thank you Helen, the first step in overcoming any past set backs is to try again. Sometimes all we need is a little guidance, and perhaps some TFT.
Jan 21, 2014
THANK YOU SO MUCH!!!
Thank you Monika Anna D'Agate!

It's thanks to you, people have faith in themselves, you give them strength to reach the highest of their possibilities. You're a miracle worker.
Thank you my dear for your kind words, I hope you're going to believe from now on that you can achieve anything that you put your mind to. It's all there for you! Xx
Oct 19, 2013
Well, let's face it… I was not a person with a driving x factor for sure!!! Before I started driving lessons I was slightly nervous as I never had any experience with cars, my knowledge of driving was very limited. Somehow, when I was behind the wheel my IQ was drastically going down… I had a lot of 'blonde moments'!!! I will keep details for myself. Believe me, nothing to be proud of 😉 And then…Monika took matters into her own hands. She was calm throughout every lesson, extremely patient and supportive. When I made some mistake, she always gave me reassurance. She told me to focus on the positives and to be proud of the progress I had made. 'Just Be THE Best YOU Can Be'. So I tried very hard and… hour after hour, month after month… I have become a confident and competent driver. I passed my test first time with 6 minors!!! I am still in shock!!! If Monika managed to teach me how to drive, she can teach anyone. She is THE BEST and ONLY ONE. Unique in every way. As a driving instructor and as a person. Genuinely inspiring, witty and warm-hearted. I do miss our lessons!!! After all the conversations we had about books, people, tft and about life in general, I can say that Monika showed me not only how to drive, but also how to fly!!!

Monika, thanks a million!!!
Jun 27, 2013
Passed 1st Time
Monika came highly recommended, as she taught my wife how to drive in 2007. My wife therein passed her practical test first attempt. I am happy to say that Monika turned out to be far above the hype my wife gave her. I taught myself how to drive in Nigeria and have been driving since 2002. I thus had a lot of bad habits, total naivety of traffic signs, coupled with the fact that I had been driving a left hand drive vehicle all this while. I had 20hrs of driving lessons with Monika, and I really learnt a lot from her, especially about correcting my bad driving habits. Beyond driving, she really taught me a lot about life & I am indebted to her for also teaching me Thought Field Therapy (TFT). Using it severally during the course of my lessons and especially before my test really made a lot of difference. I believe I can only get better as a person. I am happy to say that though I did not do as well as my wife on the practical test (LOL), I still passed on my 1st attempt (27 June 2013), despite years of bad driving methods and driving in a different traffic system. I wish Monika the very best in her future endeavors and would definitely highly recommend her to everyone possible. Best Wishes Monika
From: Elizabeth Moran
Date: Monday 4th February 2013
Monika, I can't believe when we first met I had a fear of anything resembling a roundabout and truly thought I'd never conquer parallel parking. Well, there's no stopping me now! You gave me the confidence and skills to attempt the biggest roundabouts without my blood pressure rocketing and now I think I could even parallel park in my sleep it's so easy! Thank you for being so patient and encouraging me to believe in myself. You made each and every lesson so enjoyable with your wicked and relaxed sense of humour. I'm really going to miss them now that I passed – FIRST TIME!!!! Seriously, if you are looking for an instructor who's professional, motivating and someone who empowers you to conquer your fears of driving and be the best you can, then look no further, Monika is the instructor for you!
From: Emma Cook
Date: Thursday 15th November 2012
A year ago if someone would have said to me I'd be happily driving round in my own little car I'd have laughed but I am! I first came across Monika when I googled intensive driving lessons, after pretty much giving up with my previous instructor. I did an assessment with her and was horrified to learn I'd need at least 25 more hours of driving lessons before I had any hope of taking a test but I loved her honesty so booked up the lessons and test straight away. I was 34 when I started taking lessons after a traumatising experience behind the wheel at 17 and even after over 65 hours of lessons had never driven above 30mph and had a very poor grasp on the basics with a previous instructor. Monika taught me clutch control and with the help of TFT and endless patience turned me from a nervous shaking wreck into a person who now loves driving and passed my test first time on the original test date. 3 weeks on I'm still in shock, loving every minute of driving and looking forward to when it snows and I get to take snow lessons with Monika! Monika you have achieved the impossible and am so happy you have been awarded a six for your teaching. You deserve it! Thanks for giving me my freedom.
From: Piotr Antoniewski
Date: Monday 17th September 2012
Nauka z Moniką to czysta przyjemność!!! Dzisiaj zdałem egzamin za pierwszym podejściem (!!!) i…żałuję trochę, bo już nie będę miał przyjemności obcowania z tak wspaniałą osobowością, jaką jest Monika. Masz problem z nauczeniem się jazdy samochodem? Monika Cię wyleczy z kompleksów i nauczy bezpiecznie poruszać się po wąskich ulicach nie wspomnę o rondach, które będą mi się śnić przez kolejne lata 😉 Monika jesteś wielka!!!!
From: Annmarie C
Date: Sunday 12th August 2012
When I met Monika at a TFT BTFTA Conference event last year, I had no idea how pivotal she would be for me. I hadn't driven any distance for years and my map was getting smaller. I had stopped trying to drive on fast roads as I had panic attacks so violent I couldn't keep my feet on the pedals let alone hold the wheel. This, bearing in mind I'm a TFT practitioner myself, and have been to Harley Street to get over with. The calm safe repartition of driving on faster roads after a TFT session worked and after 2 days and 6 hours in total, I was able to drive home on the M25 without a worry, something I have not done for over 20 years. I have my freedom again. Thank you.
From: Bertine de Jongh
Date: Wednesday 11th April 2012
Monika was brilliant in every aspect: professional in her thorough approach to teaching me how to drive safely and confidently, supportive in how she helped me handle my nerves about the test and patient whenever I stalled the car for the so-manieth time and was ready to give up. Compared to the instructors I had before, she was the one who actually made it enjoyable again for me to learn how to drive, and because of her support I regained my confidence and rapidly improved my skills. She taught me how to park in one lesson! I cannot recommend her highly enough, especially if like me you are a bit nervous about driving and/or about taking the test. I still cannot believe I actually passed the test!
From: Rashid Adams
Date: Thursday 22nd March 2012
Monika, You are not just an instructor, You are a genius instructor! Professionalism, passion, dedication to work and simple faith in people, that what you will experience on driving lessons with Monika. TFT is a great way to help you ease any traumatic stress and Monika is an adept of this unconventional but very effective way to help people. No more drugs or counseling! Monika, You helped me a lot. I passed my test. Thank You!!!
From: Katie Gooch
Date: Wednesday 26th May 2010
After a bad experience when I was 17 with a male instructor, 15 years later I managed to pluck up the courage to attempt driving lessons again with a female instructor, so I contacted the AA and booked a lesson only to be contacted via text message by them to cancel the appointment and move it to a completely unsuitable time so I asked for a refund and discovered Monika. After the first lesson I knew I had made the right choice. The lessons I received not only taught me how to drive but gave me life skills too and I passed my test on Monday 24th May… thanks to Monika and her TFT. Her guidance gave me the confidence not only to pass my test but also to raise my self-esteem. Now I'm looking to the future positively. I will miss Monika as my driving instructor but look forward to seeing her as a friend / mentor. This wonderful lady has many amazing genuine talents. Thanks Monika you are a star!!!
From: Kasia Burchard
Date: Sunday 23rd May 2010
Cześć, stokrotne "dzięki" Monika… myślę, że gdyby nie Monika do tej pory nie posiadałabym upragnionego prawka. U mnie był problem natury psychicznej. Z jazdą nie miałam większych problemów i chyba szła mi nieźle. Niestety panicznie bałam się samego egzaminu. Byłam tak zestresowana nim i wszystkim z nim związanym, że oblałam dwa poprzednie (nim trafiłam do Moniki). Zbawienna okazała się metoda TFT (która potrafi zdziałać cuda) i WIELKIE wsparcie Moniki, która pomagała i wspierała cały czas. To się naprawdę czuło. PROFESJONALISTKA w 100%. Dzięki niej nie tylko zdobyłam upragniony dokument, również umocniłam pewność siebie i podleczyłam zbolałą duszyczkę. MONIKA JESTEŚ NAJLEPSZA!!!
From: Julianna/Ola
Date: Saturday 22nd May 2010
Hi Everybody, Once upon a time there was a girl who was only 17 and really wanted to become a driver. Unfortunately being young and naive she ended up finding the 'WRONG' instructor who destroyed her confidence and faith… She decided that she will never get into a car again. Eleven years later she found Monika and that's how her 'driving adventure' begins:))) Monika gave her everything that a person who is anxious about driving needs: support, empathy, confidence and fun. She also showed her that nobody is perfect and it's OK to make mistakes. This is me, a girl who was never going to drive again… On the 19th of May I've passed my driving test thanks to Monika:))) My happiness is endless because I can now enjoy driving, independence and freedom! Monika I just wanted to say a BIG THANK YOU for helping me to fulfil my dream!!! Nothing is impossible with Monika!!!
From: Vilma Blazyte
Date: Thursday 20th May 2010
I passed my test on the 13th of May. I feel very fortunate that I have had the opportunity to meet Monika. I would like to compliment Monika as a person and as a driving instructor. She really knows how to create a positive atmosphere, finds new and innovative ways how to teach driving and also helps people to solve their personal problems using TFT and her life coaching skills. It wasn't just driving lesson, it was a great experience. I am very thankful to Monika for her patience and for everything she taught me!
From: Sharon Endacotte
Date: Thursday 11th February 2010
I attempted to learn to drive when I was 17, but back then, although I was very interested in cars, I was always happier on two wheels than four. After a rather half-hearted series of lessons with two uninspiring instructors, I decided to stick with bikes. This was fine until three years later, when I had an extremely serious accident and was unable to walk unaided for almost a year.This left me too scared to get on a bike again and incredibly nervous behind the wheel of a car.
About three years ago I decided I would learn to drive. I booked up with a major driving school and was starting to get to grips with things when they changed my instructor. I found I didn't gel at all with the new instructor, and between his teaching methods and residual nervousness from my accident, I started to truly hate driving.
I eventually reached a point where I couldn't even bear to sit behind the wheel, and attempting it would bring on panic attacks – I'd developed a driving phobia. I gave up my lessons and decided I would forget all about driving. The thing is, I'm a bit of a petrolhead – I'm fascinated by cars these days – and it seemed quite sad to have all this interest in cars and no ability to drive them.
Last year I went through a lot of changes in my personal life, and I decided I would have one last try at getting on the road. I realised that this would not happen, though, without addressing the underlying problems that were holding me back. Getting me back behind the wheel would need a very special driving instructor. Fortunately, 'a very special driving instructor' is exactly what Monika happens to be.
The first time I spoke to Monika she took the time to find out a bit about me and I was immediately struck by how at ease she made me feel and how easy she was to talk to. She told me a little about Thought Field Therapy (TFT) and its uses and said she was sure she could help me. I'd never heard of TFT before and was a little sceptical, but I was open-minded enough to give it a go – and I'm so glad I did.
On 23rd July 2009 I nervously got into the car for the first time. It wasn't easy, and it wasn't pleasant, there were tears and there was panicking, but Monika worked with it and started to get to the root of the problem. With the use of TFT I was driving, albeit hesitantly, by the end of that first lesson. Over the next few weeks I made rapid progress under Monika's instruction. We continued to use the TFT when the anxiety got too much, and I passed my theory test in August. I made my first attempt at the practical test in October, and although I failed, I still considered it to be a milestone because in all the time I'd been trying to learn in the past I had never felt confident or capable enough to even try. The test situation did make me more anxious than I'd expected, and it took a bit more work with the TFT to get me through that.
All the while my driving was improving, but my nerves still let me down at the second attempt. Monika didn't let it get to me though, and she gave me the encouragement I needed to keep going. She turned me around completely, and it was soon time for my next test attempt, and this time I felt much more ready. Not that it went without a hitch; I had grown confident in my ability to drive Monika's car, so I was quite rattled when, with little over a week to go, I had to get used to a different car. Even this wasn't so big a problem with Monika's help, though, and even though the prospect of taking my test in an unfamiliar car made me a bit anxious, she kept me calm and believed in my abilities when perhaps I didn't. And today (11th Feb 2010) I passed my driving test! It hasn't quite sunk in yet, but my pass certificate is on the table in front of me and that proves it happened. But I couldn't have done it without Monika's help – she really is a fantastic instructor. The thing is, she's given me skills for life – not just driving, but a way of handling the difficult things life throws at us every day. THANK YOU MONIKA!
From: Victoria Pisarski
Date: Monday 15th June 2009
After my sister passed first time with Monika there was never any doubt who would be my driving instructor. I can't put in any other words, Monika is the most AMAZING driving instructor. I wasn't the easiest person to teach but Monika was always patient. She let me take my time to get manoeuvres right and was never patronising. She pushed me to reach my full potential, knowing I could perform and making me believe in myself! The passion and enthusiasm that she showed for driving made driving lessons a thoroughly enjoyable experience and the fact that we had a good student teacher relationship also helped. Monika prepared me for the test well, taking me on various test routes, doing mock tests and by giving me useful tips. I used TFT (Thought Field Therapy) before my driving test as I was very nervous. TFT and the fact I had a brilliant driving instructor meant I passed first time with only 4 minors. I would recommend TFT to anyone who feels nervous about their driving test or has a fear, as it really does work! I also used TFT as I have a fear of flying and haven't flown since 2003. I went to Gatwick with Monika and after using TFT I will be taking my first flight in 6 years in a month's time and feel very relaxed and calm about it. I can't thank Monika enough for all the help and support she has given me! If I speak to anyone who wants to learn to drive or is not succeeding with their driving instructor I always recommend Monika.
From: Anna Biel
Date: Saturday 6th June 2009
Hej Monika! Dziękuje Ci za pomoc w zdobyciu wymarzonego prawa jazdy:) Gdyby nie Ty długo jeszcze musiałabym sie zmagać z trudnościami i kto wie czy odniosłabym sukces…
Wielkie dzięki!!! Pozwolę sobie przy okazji dodać parę slow wszystkich przyszłych kierowców odwiedzających Twoja stronę.
Witam, jeżeli właśnie zdecydowałeś sie robić prawo jazdy lub jesteś juz w trakcie a może zrezygnowałeś w połowie, bo wciąż Ci nie wychodzi, jesteś pełen obaw, stresujesz się a sama myśl o egzaminie paraliżuje Cie i w ogóle wydaje Ci sie ze nie nadajesz sie do tego i pewnie nigdy w życiu nie uda Ci sie zostać kierowca itp…ta wiadomość jest dla Ciebie: Wybierz Monikę na swojego instruktora, naprawdę warto, polecam! Jeżeli kiepsko Ci idzie nauka, nie wierzysz w swoje możliwości to uważam, ze nie znajdziesz lepszego instruktora dla siebie.
Monika nie jest jednym z wielu przeciętnych instruktorów, uprawnienia, które posiada w polaczeniu ze świetną osobowością sprawia ze nawet największy pesymista i niedowiarek osiągnie cel i pewnego dnia wyjedzie własnym samochodem na szerokie;) drogi Londynu. Wiem to z własnego doświadczenia.
Sama miałam problemy z nauka jazdy natury panikuje i marudzę ze nie dam rady zanim jeszcze cokolwiek zacznę robić.
Poprzez kiepski wybór szkoły i niekompetencje instruktorów straciłam sporo czasu i pieniędzy nie mówiąc juz o nerwach. Prawie straciłam nadzieje i wycofałam się. Dzięki Bogu znalazłam Monikę, która dodała mi wiary i pozytywnie nastawiła, a metoda TFT opanowała cały mój paniczny lek związany z jazda i egzaminem – niewiarygodne, ale to naprawdę działa!!! Spróbujcie, warto!!! Nauka z Monika to najkrótsza droga do zdobycia prawka w UK!!!
Powodzenia!!!
Anka.